About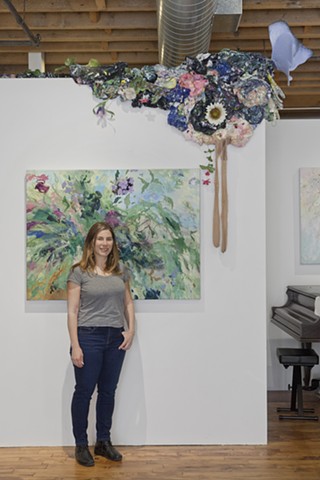 Bio
Born in Hadley, NY, Sarah Meyers Brent received her B.S. from Skidmore College, her Post- Baccalaureate in Studio Art from Brandeis University, and her MFA in painting from the University of New Hampshire. The artist maintains a studio at Waltham Mills Artist Association in Waltham, MA.
Brent is known for her tactile paintings and sculptures assembled out of repurposed materials. She is part of the Boston area artist group "Inspiring Change for the Climate Change." As a mother with two young boys, she also volunteers with the "Mothers Out Front" environmental activist group.
Represented by the Chase Young Gallery in Boston, Brent has exhibited widely. Her solo exhibition recently appeared at the Art Complex Musuem in Duxbury, MA, along with exhibits at the Mayor's Gallery in Boston and Catamount Arts in Vermont. Reviews of her numerous exhibitions have appeared in Art New England, The Boston Globe, New England Home, Sculpture Magazine and other publications. Her work is in the permanent collections of Danforth Art Museum/School, Liquitex Corporation, Microsoft Corporation, and in numerous private collections.
Artist Statement
In my installations, paintings, and sculptures I create alternative landscapes that embody the craziness of motherhood and environmental chaos. In paint or repurposed items my works look as if they are simultaneously growing and decaying.
I began my career as a painter before branching out into installation and sculpture. My floral landscapes drip and wilt, while punctuated with color and areas of growth. I apply the paint in many modes; with thick globs or thin washes, pouring and dripping, large and fine brushes, and incorporate various drawing materials. Although I record my observations of dried flowers and landscapes I also leave a lot to chance. At times I place paintings on the floor, allowing the paint to be thin and fluid. Other times I work on them upside down, seeking out abstract form. I go back and forth between my desire to make the imagery more life-like and then to deconstruct it. Ultimately the paintings feel finished when there is the right mix of "goodness" on the canvas with an honest portrayal of the beautiful and ugliness in life.
My sculptural works take discarded items from my house, community and town transfer station. The mix of old kids' clothes, paint globs, toys and rags, incorporated with dirt and other natural elements, are repurposed into natural forms. They express the weight of raising children in environmental disorder, while attempting to maintain a sense of self and balance. Referencing the overuse of "stuff" and the mental load that women carry around, piles of trash take on a second, organic life. As a member of the national Mothers Out Front environmental group where I volunteer at my local swap shed and run our chapter's Instagram, I find inspiration and a multitude of stories through what's left behind: a round mirror, a red guitar, or plastic antlers, all spark ideas for sculptural forms.
The compositions and colors in the various media are often in conversation with each other: in the painting Beyond the Rainbow II, an array of colors are clumped together balanced by a crimson flower, similarly to the colors and form in the sculpture Birdsong II and its crimson shoe. I bring my sensibility as a painter into all of my works. I work through the mess of life to find order in chaos and beauty in the reality of imperfection.